Virgin Media Remote - Dirty ? Sticky ?
So, you've got one of these remotes for Virgin Media Set Top Box (RCU - Remote Control Unit):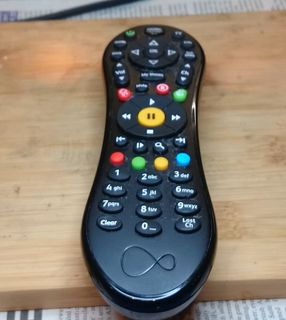 It's not just remote. It's a mix of food/drink and some of the remote. It's dirty, sticky... It was in heavy use by kids.
Let's clean it to the perfect level. The best way is to:

1. open it (disassemble the remote)

2. clean it (wash all plastic parts, don't wash the electronics !)

3. dry it

4. put it back together

Virgin Media Remote - Toolset for disassembly
For opening most small electronic devices I use this kind of a kit: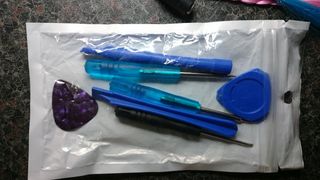 You can buy those kits on ebay/amazon for less than 5 quid. Those kits usually include few screwdrivers and few plastic tools that help to open plastic elements without damaging them.
The important thing here is: if you use a metal tool on a delicate plastic edge of you phone/remote/whatever, you'll damage it.
If you don't have a kit like that, use: guitar pick or bank card


Step #1: open the remote
Remove batteries
That's it. Simply remove batteries.


Force the entry
There is nothing more to do before separating two parts of the enclosuer - there are no screws, no glue.
The only thing keeping this all together is a lot of small plastic clips around.

You have to use your plastic tool (or guitar pick or bank card) and a lot of force at this point: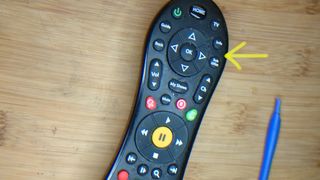 Like this: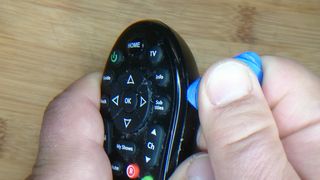 You need a lot of force to start it.
Don't be afraid of breaking it - it's quite solid.

At some point you should achieve this - a small gap: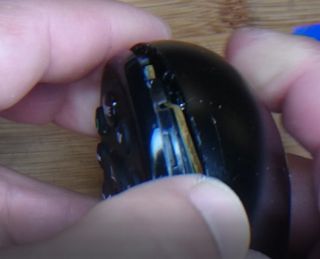 Then just use the plastic tool around to lever more and more clips around the enclosure: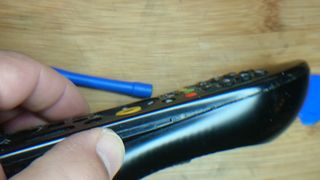 After opening you should have those 3 part separated: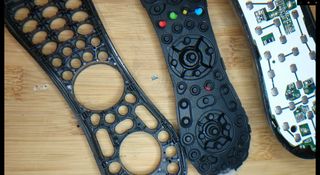 Remove the white electronics board. This board is the only part that should NOT be washed. Avoid water contact with this board.
So, you should have 4 parts now: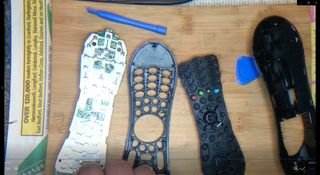 Step #2: Clean it
No big deal here. Just take all 3 plastic parts and wash them.
Again: DO NOT wash the electronics part (the one with metal things on it)

The plastic parts are probably dirty with food, mostly fat, sweet drinks, etc. They're like plates after a meal, so handle them like plates: the best way is to use warm water and dishwashing liquid.

If you need to clean the electronic part too - that needs a lot more caution. Don't use water. Use a alcohol based solution.
I'm not going to describe that in detail right now, but if you're really interested email me - I'll extend that tutorial.


Step #3: Dry it
Just put them in clean dry place for few hours, until they are completely dry.


Step #4: put it back together
It's easy to put it back - there are only 4 parts here.
Just make sure you're doing it slowly, all parts fit into their places, check everything twice.