TWIRL 1

Twirl is a simple Direct-X implementation effect of "TWIRL in your eyes".
Developed in 2004 as experimental DirectX-7 based demo of code-generated graphics and small executables.


Features
open-mind watching makes you feel unreal,

22 KB *.exe - pure executable, no additional dependencies, no gfx files,

needs DirectX 7.0,

pure C code, optimized for math and memory cache access (it has been developed when AMD 800Mhz was everybody's dream machine),

Screenshots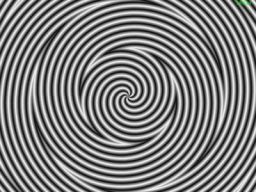 How to get quick results
Look at Twirl center for 20-30 seconds - then look at something else...


How to get best results
relax

free your mind

open your mind

play good music, some trance maybe,

weed in ur lung, cup of alc


After watching Twirl for 10-60 minutes - look at anything.
I wonder if u feel anything similar to my experience....


The download
DOWNLOAD TWIRL - *.exe 22 KB